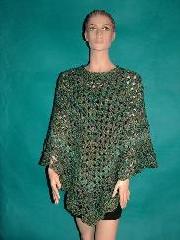 Coming Home "Martha Stewart" Poncho - Available at KNC Chloe's Boutiques I & II, and all KNC Annex. See KNC Online
KittyLuv Needleart Collectibles was registered in 2001 to offer for sale offline and on unique wearables and home decor for people and their pets. After a short period of selling on ebay, where I first opened KNC Chloe's Boutique, where I received 100% feedback on all of my sales, I decided to bring my unique handcrafted items to several other venues outside of the official KittyLuv Needleart Collectibles website.
I have 35+ years experience in the needle arts of knitting and crochet, sewing and within the past 5 years beading. Creating beautiful items for myself and others to enjoy is my passion. Creating a viable business out of this passion as also been a lifelong dream. In a world filled with mass-produced cheap wearables it is no wonder there is a resurgence in the interest of fine handcrafted gifts and wearable items. Maybe it is that extra human touch. When you buy a shawl or poncho from KNC you know that it has been crafted from beginning to end by myself.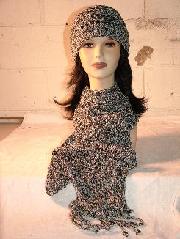 Cotton-Acrylic Sets Available at KNC Online Shops
I love fiber and color. I use a lot of handpainted yarns in my creations, as well as hand-dyed silk ribbon. Most of these are one-of-a-kind (OOAK) items. On these items the basic design can be reproduced but not always in the same fiber or color.
The handpaint yarns I use are mainly natural fibers or a mix and are created by small, independent "cottage industry" businesses, artists with a wonderful eye for color and attention to detail, including but not limited to: Dannette Taylor Designs, Over The Rainbow Yarns, Mystical Creations Yarns, Mystifibers Yarns, White Pine Mercantile and my newest favorite NightShade Rose.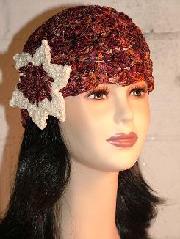 Ribbon 'n Rose Cloches - Order at all KNC Online Shops
Everything that you see on this site is made by me from start to finish. After an item is sold it is given a final wash in a special soap made especially for fiber artists. When you buy an item from any of the venues that KNC items are offered on you can be sure that is is clean and fresh and ready to wear. Recommended care instructions are also included. All product photography, website creation and product descriptions are done by myself, the "numero uno" and only employee of KNC.

I try to keep my prices reasonable when it comes to hand knit and crocheted items. Many hours go into the creation of an item, much of which is not charged, or it would be out of the reach of any but the most upscale customers. My goal is to continue to grow my business on and off the web, and to create a wonderful relationship with buyers through quality products, reasonable prices, and excellence of service.

If there is anything you would like to see added on my site don't hesitate to e-mail.

So grab a cup of coffee or tea and have fun browsing through the beautiful and unique creations of KittyLuv Needleart Collectibles
Be happy, be healthy.
Owner and Designer
Cathy